Bumper Panel Scratch Repair Services in Baltimore, MD
The Scratch Repair Process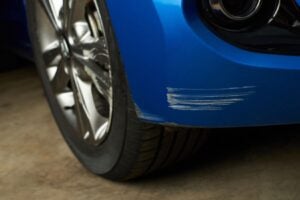 When it comes to auto accidents, the bumper panel usually takes a lot of impact. The bumper is designed to absorb the impact of a collision to protect the car and its passengers. Having a damaged bumper repaired is crucial to maintaining the safety of the vehicle. There are different materials for bumpers, depending on the style and age of the car, and some can be more difficult to repair or replace. From scratches in the paint to dents and damage, our experts at Rim Doctor can repair your bumper with precision.
Bumper Repair FAQ
Q: What are the benefits of bumper scratch repair?
A: Bumper scratch repair can fix any issue with your bumper, from deep scratches to key marks to rock chips. Repairing car panel scratches can be much cheaper than replacing an entire car panel. It is also easier to match paint color in a repair rather than a full replacement.
Q: Why is car panel scratch repair important with a lease?
A: Scratches or dents on a rear bumper panel are not normally considered wear and tear by dealers when you are turning in a leased vehicle. In many cases, scratches, cracks, or dents can be fixed much less expensively by one of our experts than by a dealer who will add on costs to the turn-in of your lease.
Q: What kind of technology is used for bumper scratch repair?
A: Rim Doctor uses a professional paint-matching system to help us get the perfect match for your car bumper scratch repair. Our technicians are also expertly trained in plastic bumper repair to get you the best results.
Scratch Repairs Services at Rim Doctor
Whether your bumper panels are made of sheet metal, rigid, or semi-rigid plastic, our experts will be able to complete your car panel scratch repair with precision and skill. We also offer paintless dent repair, which can repair minor dents in your car's bumper panel without removing the vehicle's factory finish. This is done when there are dents without any additional damage to the car panel. Some types of damage to look for on your bumper panel that we can repair include:
Deep, narrow scratches
Wide scratches
Light surface scratches
Key scratches
Minor dents and dings
When the paint is blended with the car's original color, repairs will make the scratches less noticeable and protect against rust and corrosion.
Choose Rim Doctor for Your Bumper Panel Scratch Repair
Our technicians at Rim Doctor are expertly trained in plastics repair to effectively restore your car's bumper panel to like-new condition. In addition to paint, scratch, and dent repair, you may find our external car detailing services will help give your vehicle that added boost in appearance to make it feel brand new again. We are also adept at removing scratches from wheel rims with our wheel rim restoration services. We are a locally owned company with 15 years of experience in the automotive repair industry. We offer free estimates and are dedicated to your 100% satisfaction.
Contact Us in Baltimore, MD
If you have minor dents or scratches to your car's bumper panel, contact us today for a free estimate. Our experts will give you a fair and honest quote to help you get your car looking like new again.
Why Choose Us?
Same Day Service
Locally Owned & Operated
Over 15 Years of Experience
Mobile Service
Free Estimates