Wheel Remanufacturing & Repair in Baltimore
Don't Let Your Wheels Fall Apart – Call Rim Doctor!
Alloy wheel remanufacturing is the process of repairing or restoring a damaged alloy wheel. This can include refurbishing the wheel, replacing missing or damaged components, and refinishing the wheel to its original condition. Alloy wheel remanufacturing is a great way to get your wheels looking new again without having to spend a fortune.
Wheel Remanufacturing: The Process of Rebuilding Wheels
Alloy wheels are popular among car enthusiasts for their style and performance. However, they can be expensive to replace if they are damaged. Wheel remanufacturing is a process that repairs severely damaged alloy rims, making them as good as new. The process begins by removing the old wheel finish and repairing any damage to the rim. Next, the wheel is powder coated or painted to match the original finish. Finally, new decals are applied to give the wheel a fresh look.
Rim Doctor is the go-to choice for alloy wheel repair, rim repair, and wheel remanufacturing in Baltimore. We have the skills and experience to get your wheels looking like new again!
The Art of Wheel Remanufacturing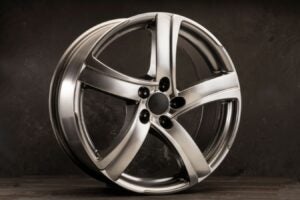 The first step in the wheel remanufacturing process is to remove the old wheel assembly from the vehicle. This is done by loosening the lug nuts that hold the wheel in place and then pulling the wheel off of the axle. The old wheel assembly is then inspected to determine if it can be reused or if it needs to be replaced. If it needs to be replaced, a new wheel is ordered and installed. If it can be reused, the old wheel is cleaned and refurbished before being reinstalled on the vehicle.
The next step is to clean and inspect the wheel for damage. Any damage to the wheel, such as cracks, dents, or bends, is repaired at this time. The wheel is then sanded down to remove any old paint or finishes. If any damage is found, the wheel is repaired or replaced as necessary. Once the wheel is repaired, it is painted, or powder coated to match the original finish.
The next step is to re-balance the wheel. This is done by adding or removing weight from the wheel until it is balanced. This ensures that the wheel spins evenly and does not vibrate when in use. The weight can be added or removed by either drilling a hole in the wheel and adding or removing weight, or by adding or removing material from the edge of the wheel.
The final step is to reinstall the wheel on the vehicle. This is done by aligning the wheel with the axle and then tightening the lug nuts to hold it in place. The wheel is then tested to ensure that it is spinning evenly and that there is no vibration.
What Causes Serious Wheel Damage?
Wheels are one of the most important components of a vehicle and driving on rough roads or pothole-ridden streets can cause serious damage. Slamming on the brakes can also cause the wheel to wobble and become misaligned. Extreme weather conditions (hot or cold) can also take a toll on wheels, as can salt used to de-ice roads in wintertime. Not rotating your tires regularly can lead to uneven wear and tear, which will impact the wheel's overall stability. Overloading your vehicle with too much weight can cause the wheels to buckle and warp. It is important to take care of your wheels and ensure that they are rotated and balanced regularly and that you do not overload your vehicle.
The Importance of Wheel Remanufacturing
Wheels are an important part of a car, and they need to be taken care of to ensure that they last as long as possible. One way to take care of your wheels is by regularly having them remanufactured. Here are three reasons why you should remanufacture your car's wheels:
Remanufactured wheels are stronger and more durable than new ones. This means that they can withstand more wear and tear, and they'll last longer.
Remanufactured wheels are cheaper than new wheels. They come with a warranty, so you can be sure that you're getting a good deal.
Remanufacturing your wheels helps keep them in good condition and prevents them from wearing out prematurely. Overall, this is a great way to keep your car running smoothly for years to come.
Common Wheel Remanufacturing Questions
Q: What's the most challenging part of the wheel remanufacturing process?
A: The most challenging part of the wheel remanufacturing process is ensuring that the rims are correctly aligned. This is because the rims have to be perfectly round in order for the tires to spin correctly. The slightest misalignment can cause vibration and other issues. Rim Doctor has a team of highly skilled professionals who are experienced in this area and use state-of-the-art equipment to ensure that the rims are correctly aligned. This attention to detail is what makes Rim Doctor the leading wheel remanufacturer in the industry.
Q: Do you ever see wheels that can't be repaired or refurbished?
A: One common example is when the rim is damaged beyond repair. This can often happen if the wheel hits a pothole or curb too hard. Once the rim is damaged, it's very difficult to make it look new again. Replacing the entire wheel is usually the best option in this case.
Q: What is your favorite part of the wheel remanufacturing and repair process?
A: There are many aspects of the wheel remanufacturing and repair process that we enjoy, but one of our favorites is the final step – putting the finishing touches on a beautifully restored wheel. At Rim Doctor, we take pride in our work and it shows in the results. Every detail is important to us, from cleaning and polishing the rim to installing new graphics or embellishments. It's always gratifying to see a customer's reaction when they see their transformed wheels for the first time. Knowing that we played a part in making their vehicle look its best is very fulfilling.
Rim Doctor: The Best Option for Wheel Care
At Rim Doctor, we take your wheels seriously. Our technicians prioritize not only the appearance of wheels, but the quality as well. We're dedicated to restoring your wheels to mint condition. With our comprehensive services and professional technicians, we ensure your wheels provide your car with long-term beauty and performance. Rim Doctor offers a variety of services to improve the look and feel of your vehicle, including:
Contact Rim Doctor
If you're looking for a reliable and professional rim repair service, look no further than Rim Doctor. We provide top-of-the-line services that will restore your wheels to mint condition. Contact us today to learn more about our services or to schedule an appointment!
Why Choose Us?
Same Day Service
Locally Owned & Operated
Over 15 Years of Experience
Mobile Service
Free Estimates