Wheel Welding Baltimore
Say Goodbye to Unsightly Cracks in Your Rims
Eventually, your wheels are going to wear down. If you've been driving your vehicle for a while, you may notice small cracks forming on your alloy wheels. While these cracks seem harmless, they can actually destroy your tires and limit your ability to drive. For these reasons, it's pertinent you have our technicians at Rim Doctor repair your wheels for you. As experts in the wheel repair industry, we can rid your wheels of cracks through our welding service.
Benefits of our welding service include:
Less money
Reduced risk of tire damage
Longer tire use
Cost-effective solution
Cracks in the rim can cause greater damage than you may think. When left untreated, the crack may cause your tire to leak air. You may not notice your tire deflating until you're on the road. Prevent the worst from happening with our help. Contact Rim Doctor or call 443-410-3124 as soon as you spot a crack.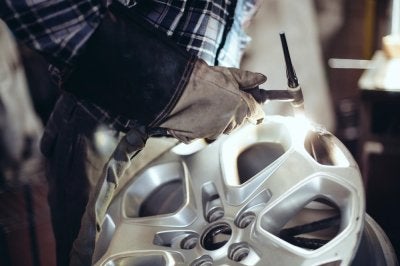 Why Choose Us?
Same Day Service
Locally Owned & Operated
Over 15 Years of Experience
Mobile Service
Free Estimates