Wheel and Rim Repair Services in Baltimore, MD
Wheel Rim Repair Cost Is Reasonable at Rim Doctor
Even though wheel rims are made of metal, they're not indestructible. In fact, rims often sustain damage from things like potholes, curbs, and even brake dust. Damaged rims negatively affect a vehicle's appearance but more importantly, can affect its performance and safe operation. That's why if you need a wheel or rim repair services in Baltimore, MD, you should contact Rim Doctor.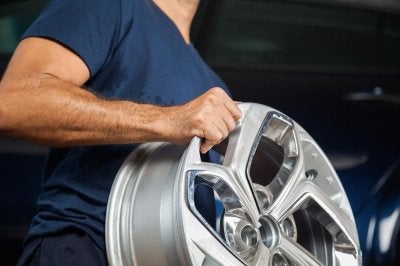 Do You Offer All Kinds of Wheel and Rim Repair Near Me?
At Rim Doctor, we repair most alloy wheels with finishes other than chrome. We can repair wheels from many different makes and models. The wheel and rim repair services we offer include:
For Safe, High-Quality Wheel and Rim Repair, Call Us
With over 15 years of experience backing us up, Rim Doctor provides off-the-car wheel repair that can improve both the safety and aesthetics of your vehicle. In addition to our high-quality service, we offer a free lifetime warranty on workmanship. Whether you need a wheel and rim repair, a high-gloss finish, or custom color, we've got the experience and skill to make your wheels look like new. Taking care of your car is about more than just running it through the carwash, and if you intend to drive your car for many years, you can trust us to provide many services that will help you keep it in excellent shape. Contact us for more information. If you'd like to know more about wheel rim repair costs in the Baltimore area, you can request a free quote online.
Why Choose Us?
Same Day Service
Locally Owned & Operated
Over 15 Years of Experience
Mobile Service
Free Estimates