Wheel Refurbishment in Baltimore, MD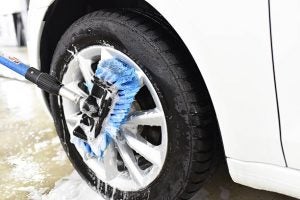 Here at Rim Doctor, we specialize in keeping your wheels looking great and your car driving smoothly. We take care of wheel refurbishment and wheel services in the Baltimore, MD, area for both commercial and residential clients. From providing OEM-level reconditioning for dealership vehicles to fixing the bent rim on your car or motorcycle, we provide the most comprehensive wheel services around. We use only sophisticated refinishing, polishing, and touch-up equipment for every service. Call us today at 443-410-3124 to schedule work on your wheels!
Our wheel refinishing and refurbishing services
At Rim Doctor, details matter. We believe no vehicle is complete without polished wheels. When you bring your vehicle into our shop in the Baltimore, MD, area, our technicians explain your options and listen to your needs. If you're having trouble deciding on a custom color or finish, we can help you determine the touch-up that best complements your car's appearance and style.
Whether your car has unsightly dings, dents, or cracked rims, our restoration services can restore the look of your wheels to as good as new—or even better!
We handle:
Curb abrasion: If you bump up against a curb, we'll use our expertise to buff, polish, and restore your wheels to pristine condition.
Ding repair: We'll iron out any dings for a smooth finish.
Scrapes: Say goodbye to ugly scrapes and hello to beautiful, glossy wheels. We can also fix scratches on your car bumper.
Whatever damage your wheels have, we can fix it!
For over 15 years, Rim Doctor has been providing the best cracked and bent wheel repair to Baltimore and the surrounding areas. Our technicians are thorough and have an eye for detail. We'll repair your wheels to prevent uneven tire wear, steering difficulty, and suspension damage.
More durable and attractive than paint, powder coating takes the appearance of your wheels to the next level. Our professionals use only the best powders from industry-leading suppliers and a meticulous application process to ensure the best results.
We'll use proven methods to refinish and polish away any scratches on your wheel rims. You can't control the state of the roads, but you can ensure great-looking and functional wheels with services from Rim Doctor!
Clear coat peeling
Are your wheels ugly, drab, or yellow? We'll remove any old clear coat paint to get your wheels looking fresh. We can also reapply clear coat for a revitalized new look for your vehicle.
Chipping
If you have chipped wheels, we can restore them. Our chip repair services, like all our services, are quick and efficient so you can get back on the road as soon as possible.
Keep your ride looking sleek and attractive with polishing from Rim Doctor. Your car will look glossy and new, guaranteed. And if you want a custom color or finish, we have what you're looking for. If you need help, our experts can assist you in selecting the perfect look and product for your vehicle.
Contact the wheel experts!
Brushing up your car means more than taking it to the car wash, or at least that's what we believe. Rim Doctor specializes in polishing and wheel refurbishment. As experts in wheel care in the Baltimore, MD, area, we put the final touches on your car with our excellent refinishing services. Once we're through, we guarantee you're driving the slickest ride in town. Plus, we make our services even more convenient with same-day work that doesn't compromise on quality. We can also work with your insurance.
Whether you're a commercial or residential customer, we can take care of your wheels. Call us at 443-410-3124 now to get the top-notch wheel services you deserve!
Why Choose Us?
Same Day Service
Locally Owned & Operated
Over 15 Years of Experience
Mobile Service
Free Estimates