Curb Rash Wheel Repair Services
Professional Wheel Repair Services in Baltimore, MD
If you're a car owner, then you know that wheel curb rash is an all-too-common occurrence. While it's not always a problem, it can be frustrating to have to take your car in for repair. Rim Doctor can help fix your car's wheels if they have been damaged by curb rash. Our expert technicians have years of experience in this field and can help get your car's wheels looking as good as new in no time! Don't fret if you're ever faced with this problem – just give us a call and we'll take care of everything.
Why Should You Fix Curb Rash?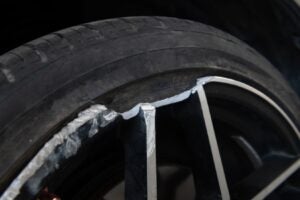 If your car has curb rash, you may be wondering if it's worth repairing. Curb rash is usually a cosmetic issue, but it can also lead to long-term damage to your car's suspension, steering, and fuel economy. Our specialists can check for any serious damage and improve the visual appeal of your rims. Here are some reasons to repair your curb rash.
Repairing curb rash can help maintain the value of your car. If you're planning on selling your car or trade it in, curb rash can significantly reduce its resale value. Most dealerships and private buyers are not willing to pay as much for a car with damaged rims. Repairing your curb rash will help preserve the value of your vehicle.
It's a relatively easy process. While it's always best to leave complex repairs to the professionals, repairing curb rash is a relatively simple process that can be done by most people. All you need is a few basic tools, some time, and you'll be able to fix your car's rims in no time.
The results will last for many years, provided you take care of the car properly. When you get curb rash on your car, it's important to repair it as soon as possible. Otherwise, it may eventually cause more damage. There are several ways to repair curb rash, but the most important thing is to be careful and take your time. If you do it right, the repair will last for many years.
It's more affordable than you might think. Curb rash is a common problem that can occur when your car's tires encounter the curb. While curb rash may not seem like a big deal, it can lead to expensive repairs down the road. If left unchecked, curb rash can cause your tires to wear down prematurely, and it can also damage your rims. As a result, it's important to have curb rash repaired as soon as possible. The good news is that curb rash repair is more affordable than you might think. Most auto body shops offer reasonable rates for this type of service, and many even offer discounts for multiple repairs. If you've got curb rash, don't wait to get it fixed. Repair it now and save yourself money in the long run.
Common Questions About Curb Rash Repair
Q: Should I wait to have curb rash repair?
A: It depends on the severity of the curb rash. If it's just a few light scratches, you can probably wait until you have more time or money to have it repaired. But if it's a more serious case with some deep scratches and gouges, it's best to get it fixed as soon as possible to prevent further damage.
Q: What is the cost of curb rash repair?
A: The cost of curb rash repair can vary depending on the severity of the damage and the type of rim you have. However, at Rim Doctor, we specialize in repairing all types of rims and can usually do so for a fraction of the cost of replacement.
Q: Can curb rash get worse over time?
A: Yes, it is possible for curb rash to get worse over time. If the curb rash is only on a single wheel, then you can probably wait until you need to replace that wheel anyway.
Trust the Professionals at Rim Doctor for Curb Rash Repair
In today's world, we are all looking for ways to save money. When it comes to wheel repair, many people think that they can do it themselves. However, wheel repair is a delicate process that requires special training and equipment. It is always best to hire a professional wheel repair company like Rim Doctor. Rim Doctor has been in the business of wheel repair for more than 15 years. We have the experience and training to properly repair your damaged wheels. We use the latest technology and equipment to ensure that your wheel will look like new again.
Contact Rim Doctor Today
If you have experienced curb rash on your car's wheels, don't panic. The professionals at Rim Doctor can help fix the damage and restore your wheels to their original condition. We are located in Baltimore, MD, and offer commercial wheel repair, residential wheel repair, welding, bent rim repair, paintless dent repair (PDR), and detailing services. Our team of experts has years of experience fixing damaged wheels and will work diligently to get your car back on the road as soon as possible. Contact us today for a free consultation!
Why Choose Us?
Same Day Service
Locally Owned & Operated
Over 15 Years of Experience
Mobile Service
Free Estimates