Paintless Dent Repair in Baltimore, MD
If you're a Glen Burnie, MD resident who wants to know more about paintless dent repair, Rim Doctor can help. Since 2003, we have been providing customers with wheel, tire, and car repairs they can count on. When you require a comprehensive solution for an unsightly dent in your vehicle, Rim Doctor can help! Keep reading to learn more about paintless dent repair and how it stands up against traditional dent removal.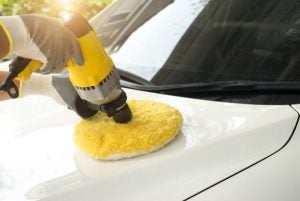 What Is Dent Removal?
Dent removal eliminates depressions from your vehicle's bumper, door, or fender, among other areas. Even minor dents are subject to rust and corrosion. Acting fast and having the dents removed from your vehicle will safeguard it from paint damage as well as an eventual, more noticeable dent. Don't let a dent impede your car's essential functions or allow it to lower the resale value of your vehicle when there are reliable solutions to make your car like new again.
What Are the Different Types of Dent Removal?
There are two different types of dent removal, traditional and paintless. Traditional dent repair is used when the dent is accompanied by scratches, scuffs, or paint chips. Paintless dent repair (PDR) is used when you have a dent in your vehicle that is not accompanied by any other damages. For both types, a technician will likely need to remove the panel on which the dent is located, using specialized tools to restore the original shape. Traditional dent removal will generally take longer than paintless dent repair.
What Is Paintless Dent Repair?
PDR is a method of removing minor dents and dings without harming the factory finish from the vehicle. Depending on the size of the dent, a technician may need to remove the damaged panels from the car to perform repairs. By using specialized tools and some heat, our highly trained technicians at Rim Doctor will patiently massage the dent out from the back of the panel. Since there is no paint damage, there is no need for sanding or painting, which typically makes this process much faster than traditional dent repair. Additionally, since this repair option is less invasive and requires less labor, it is less expensive than alternative options.
How Does Paintless Dent Repair Work?
The paintless dent repair process is carried out by our skilled technicians through the following steps:
Assess the damage – The first step of any repair process is to assess the damage. We will determine how big the dent is, where the dent is located, and if the dent can be fixed through PDR. If we find that paintless dent repair is a viable option for your vehicle's blemish, we will prepare the area for dent removal.
Gain entry to the dent – In many cases, PDR will require access to the backside of the dent, which will call for the careful removal of the affected panel or exterior part.
Using specialized tools to remove the dent – Our technicians use heat and special light tools at the back end of the dent to massage the body back to its original condition.
Completing dent removal – Utilizing our state-of-the-art restoration tools, we massage the exterior back to its original position. We guarantee there won't be any evidence that a dent was ever there in the first place!
Is Paintless Dent Repair Superior to Traditional Dent Repair?
Paintless dent repair is more beneficial to vehicle owners than traditional methods because PDR is a less invasive true fix. PDR does not require grinding or body fillers because your vehicle's original factory paint is not disturbed. There will also be no problems with filler or paint shrinkage taking place months after the repair, as is typical with most traditional body shop repairs. Additionally, the cost for paintless dent repairs is typically between one-quarter to one-third the price of a conventional dent repair. In most instances, paintless dent repairs can be fixed within a few hours, and you will likely have your vehicle back the same day!
What About DIY Paintless Dent Removal Kits?
Though a seemingly valuable solution, do-it-yourself paintless dent kits pose their own limitations. For one, paintless dent repair requires special equipment and specific skills for successful dent removal. Our trained technicians have the experience needed to remove dents through this method efficiently. Attempting to perform paintless dent removal yourself could result in more damage to your vehicle. It is best to leave this type of work to the professionals at Rim Doctor. We have the proper tools to carry out this process safely, as well as the knowledge to understand if any further damage was done to your vehicle when the dent occurred. Our utmost priority is to provide the highest standard of customer satisfaction so that you can walk out of our shop knowing your car will be adequately repaired whether the damages are visible or not!
Why PDR is The Perfect Solution for Auto Hail Repair
Paintless dent removal is the best option for auto hail repair because it is the most cost-effective method for fixing hail damage. Instead of replacing an entire section of your vehicle that has been adversely affected by hail, PDR makes creates a much less taxing experience for you and your wallet. Paintless dent removal allows a technician to repair individual dents, which costs much less than having to replace large segments of your vehicle.
Call Today for Comprehensive Paintless Dent Repair Services
If you're a Glen Burnie, MD resident who wants to rid your vehicle of unattractive dents from a recent accident or hailstorm, the team at Rim Doctor is ready to help with our paintless dent repair services. Contact us today so we can make your commercial or residential vehicle like new again!
Why Choose Us?
Same Day Service
Locally Owned & Operated
Over 15 Years of Experience
Mobile Service
Free Estimates